IEC 62722-2-1 performance requirements for LED based luminaires, gives an overview of the relevant "initial" and "useful lifetime" product information parameters that should be used for the planning of lighting designs. A good lighting design should be considered in many ways and there are many required technical products parameters such as "lifetime" should be indicated on the qualified LED lighting products.
What is lifetime?
Lifetime indicates the time in hours for LED light sources between the start of their use and the end of their life. We can also say it is the lifespan (hours) of LED. Now many LEDs have a rated life of up to 50,000 hours.
How long will 50,000 hours light last?
This is approximately 50 times longer than a typical incandescent, 20-25 times longer than a typical halogen, and 8-10 times longer than a typical CFL. That's assumed that if an office lighting luminaire will be used 12 hours a day, a 50,000 light will last more than 11 years. Used 8 hours a day, it will last 17 years! However, the light output of a LED based luminaire has gradually degraded after installation. Day after Day continuously. There are many electronic components inside, and all of them are important factors that will cause the LED base luminaire lifetime changed. The speed of light decay and lifetime should be considered as important factors of a good designed LED luminaire.
What is L70B50 lifetime?
The light decay means that the lights gradually degrade after installation during a time.

The Lumen Maintenance % or the Lumen Output Maintenance % will be indicated as L70B50 or L70 in many ways.

L(x) in hours with x for the associated rated luminous flux maintenance factor in %.

In order to unambiguously compare manufacturers' lifetime data, IEC introduced Median Useful Life (Lx). Median Useful Life is the time at which 50% (B50) of a population of LED based luminaires are flux degraded. Median Useful Life is generally expressed as Lx so without the B50 notification.

L70B50 lifetime defines that only 50% lights failed to reach 70% lumen output.

Meaning that the time in hours between the start of their use and the moment when for 50 % of a population of light sources the light output has gradually degraded to a value below 70 % of the initial luminous flux. This is also referred to as the L70B50 lifetime or L70 lifetime.

Some indicates that L90B10 lifetime, which defines that only 10% lights failed to reach 90% lumen output.
The LED lights has 50,000 hours lifespan and has 70% luminous flux.
Here is our BEST retrofit project from the link → CTCI project 5 years warranty!!

Benson Energy Saving Technology offer LED lights that achieve a lifetime more than 50,000 hours, and the lumen maintenance factor (%) at Median Useful Life values L70B50. All comply with latest European lighting regulation (Erp regulations).

For example, we tested 10pcs of our T8 LED 1500mm tubes declared 28Wattage, CCT 4000K, 3920lumen, and the actual measured lumen is up to 4085.90lm. It has better lumen performance than expected. During the time at 3600hrs, the lumen output gradually degraded and the average resulting values over all the units that the lumen maintenance factor can be calculated as more than 96% and the survival factor is 100%.

Please refer to below testing result tables.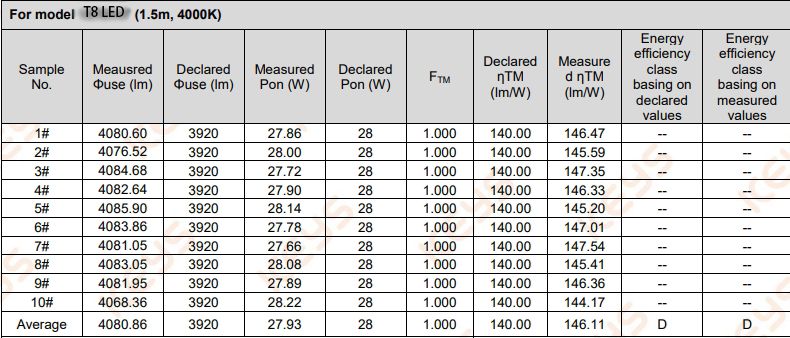 Our LED lights can easily replace old fluorescent light sources such as t5, t8, and other compact fluorescent lights (PL-L, PL-C with 2pinc PL-C with 4pins, PL-S with 4pins, PL-S with 2pins and others) in different fluorescent luminaire. We also design smart lighting LED products and developing human centric lighting products in our future LED lighting road map.

We are a professional retrofit LED lighting factory, and are able to provide different solutions for retrofit LED lighting projects, mass production, samples, trial orders, and OEM/ODM products.

You may contact us via email, via phone number, or send us inquiry on the website page "contact us".